Final presentation day at ESRIN - Computing the risk of NEOs, impact scenarios, the future of NEO activities, and more

neo admin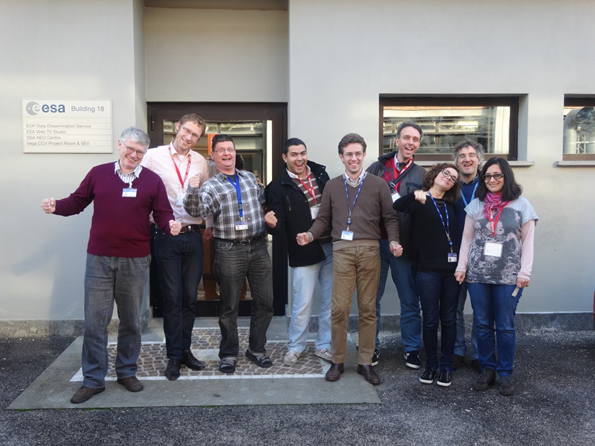 The SSA-NEO and NEOCC-Team in front of the Coordination Centre (from left to right: Gerhard Drolshagen, Philipp Maier, Detlef Koschny, Joaquim Correia de Oliveira, Marco Micheli, Fabrizio Bernardi, Barbara Borgia, Ettore Perozzi, Ana Maria Teodorescu)
On 18th November, ESRIN and the heart of ESA's NEO activities, the NEO Coordination Centre (NEOCC), welcomed an elaborate group of people involved in NEO activities in Europe. About 40 NEO scientists, technical, and political experts followed the final presentations and status reports of four activities carried out for ESA over the last two years.
The presentations ranged from the everyday work at the NEOCC, providing the expert community and the public with most up-to-date data on NEOs, all the way to the calculation of NEO impact effects and possible mitigation missions for Earth-threatening objects. In a concluding discussion, possible future activities for Europe were discussed.
All presentations as well as a video recording of the event are publically available. The presentations can be downloaded in the proceedings section of the event webpage at
http://bit.ly/neo-fpd
.
The video recordings are available here: